Temple, TX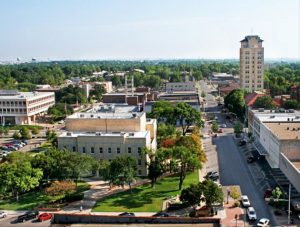 Temple, Texas is located in Bell County, in the region known as Central Texas. According to the US Census estimate in 2016, Temple had a population of over 70,000.
Temple has an interesting history. It was founded as a railroad town in 1881, by the Gulf, Colorado and Santa Fe Railroad. It was even named after a Santa Fe Railroad official. His name? Bernard Moore Temple. He was a civil engineer and surveyor. Early on, the town housed shacks and tens, and a number of saloons. Picture the wild, wild, west! They even nicknamed the town "Tanglefoot." Why? Some residents found walking through the muddy streets after a night at the saloon a bit challenging.
Also, more than a hundred years ago, the economy of Temple started with the regional Santa Fe Railroad hospital. Now, there is a much more complex economy in Temple. The largest employer is Baylor Scott & White Medical Center. The town is also home to one of Texas A&M's College of Medicine's campuses, which utilizes the medical center as well.
There are several things to do in Temple! Check out Belton Lake for outdoor recreational activities. Or, there are multiple family water parks in the area such as Summer Fun Water Park and Lions Junction Family Water Park. Looking for more history? There's the Railroad & Heritage Museum as well!
Ship Your Car with Austin Car Transport
Are you moving to Temple? Do you need to ship your vehicle? Austin Car Transport can take care of all your vehicle shipping needs!
We are one of the leading companies in the vehicle shipping industry, providing a wide range of services. All of our services are fast, safe, and easy. We always try to provide the best possible experience for our customers! Trust us to take care of your vehicles and ship them to your new home safe and secure. We can ship many types of vehicles all over the United States!
With Austin Car Transport, you can choose from a variety of services and transport methods. Do you need your car shipped ASAP? We can also provide Expedited Transport and Door-to-Door transport to make the process quick and easy. Check out our website for more information on our shipping services! If you are still unsure of what is the best option for you, call us. Our experienced live agents will help you through the process and figure out what you need.
Get a free quote with us today! Give us a call at (737) 218-6465. We look forward to shipping your vehicles to or from Temple.